Years ago I have walked at the Van Gogh Museum in Amsterdam-Netherlands. And I saw the big differences between reproduction and original work of Van Gogh. The original colors are a touch of wonderful colors with very specialized touching of brushes. I've admired Van Gogh's work at museums.
Since his death, he has become one of the most important painters all time.. He had a very tragic life. His works are colorful with blue, yellow among other colors. The life story of him is black and white
He was very poor, his brother Theo had sent money for his livelihood. Van Gogh was incompatible, alone, melancholic and without peace. He was a person between madness and genius.
Suffered from poorness, alcoholism, schizophrenia and epilepsy, his soul was tormented. Actually his life was between life and death and looks like a tragic poem.
"They say—and I am very willing to believe it
—that it is difficult to know yourself
—but it isn't easy to paint yourself either."
Vincent Van Gogh,
letter to Theo Van Gogh, September 1889
Van Gogh was born in 1853 and grew up in Holland. He was raised in a religious family with his father being a minister. When his school ended, Vincent followed his uncle's profession and became an art dealer learning the trade in Holland and then working in England and France. Vincent was successful and initially happy with his work. However, he soon grew tired of the business of art, especially in Paris.[1]
Van Gogh's Potato Eaters, his first major work, was painted in 1885. By this time, he was still having difficulty finding love, but was beginning to receive interest in his paintings.
Vincent Van Gogh (1853–1890) and Paul Gauguin (1848–1903) both experimented with the expressive possibilities of color and line to create distinct personal styles of painting. Working in France at the end of the nineteenth century, the two friends inspired each other during a nine-week period in the autumn of 1888.
According to some art historians two of his paints are most important paintings of all time.
He is also is in the list of painters of all time. In this list Van Gogh is in second place,  after Leonardo da Vinci.
Vincent van Gogh's masterpiece Starry Night is the most popular oil painting in 2011, according to overstockArt.com statistics.
Starry Night –Painted by Dutch artist Vincent van Gogh in 1889, Starry Night is one of the most well known paintings in modern culture. The painting is part of the permanent collection of the Museum of Modern Art in New York.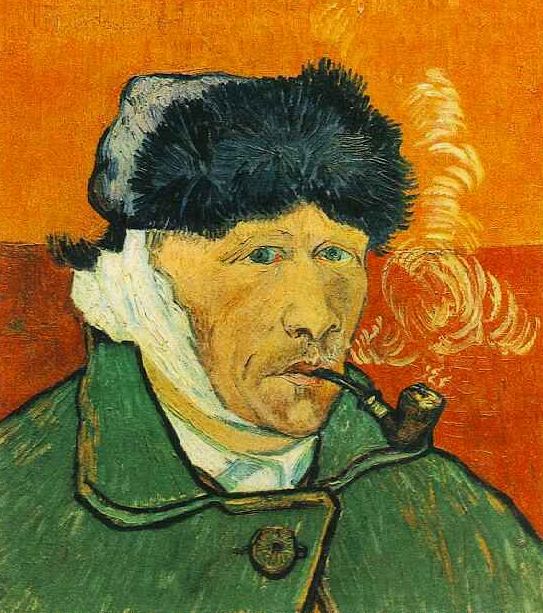 Self-Portrait Without Beard –Even though Van Gogh painted many portraits of himself, this one is by far the most famous as it is his last self-portrait and one of the few that depicts him without a beard. It was given by him to his mother as a birthday gift. It is also one of the most expensive paintings of all times, as it was sold for $71.5 million in 1998, and is now part of a private collection.
"However, now it is one of the little miseries of human life for me that I cannot go to see her once in a while or write to her, and that some people, who might have a good influence in undermining that "never, no, never," on the contrary, feed that "never, no, never." I wish that she found no sympathy anywhere for her "never, no, never" and that everyone would join in efforts to bankrupt the "never, no, never." That they would quite reduce it to a warning monument for other "never, no, never" – saying ladies and for the encouragement of those who say, "Aimer encore." But we have not come that far."
Van Gogh's "Portrait of Dr. Gachet" may not be as famous as "Starry Night" or one of his sunflower paintings, but it remains an iconic masterpiece of modernism, the last major portrait the artist completed before his suicide on July 28, 1890.
The melancholy countenance of Van Gogh's doctor stands not only as a testament to the painter's understanding of his own nervous disorder but also, in his words, as the "heartbroken expression of our time. "Portrait of Dr. Gachet" was sold by Christie's auction house for a record-breaking $82.5 million.
One of Van Gogh's work is "Self Portrait with Bandaged Ear (1889)", this work  is the masterpiece of post modernist art according to the book "Historía ilustrada da Arte".
"For myself I have nothing to complain of,
I am feeling absolutely normal,
so to speak, but without an idea for the future,
and really I do not know what is going to happen . . . . ."
Vincent van Gogh
Letter 618
7 December 1889
In addition to these facts, he was rejected by women who wanted to have a loving relationship, because for that he had a deeply wounded heart. He never thought an effect on women, nor your mother. The relationship between him and the mother was always distant and cold.
One day cut his own ear and sent it to a woman who made her life being with men. After cutting it painted a self-portrait of this action. This scene is one of the famous works of Van Gogh, why added an unforgettable tragedy in his life. Might want to give this message to society, "Listen to me Understand me!"
One day, committed suicide and shot in his abdomen, died in 1890 when he was 37 years old.
Van Gogh is Dostoyevsky of painting art and his best work is the act of cutting his ear.
References
[1] Vincent Van Gogh: Overview, vangoghgallery.com
[2]  http://10mosttoday.com /
[3]  vangoghletters.org/, Letter 155, Letters to Theo, Etten, 9-10 November 1881.
[4] 'Portrait Of Dr. Gachet': A Van Gogh Painting, Once Obscure, Now Unseen", New York Times, Books of Times, / By Michiko Kakutani, April 28, 1998.
[5] 'História Ilustrada da Arte', Editora Publifolha, 2014, 400 sayfa, São Paulo, pp. 296-297.
Comentários Facebook